Moving from Belgium by sea: how to go about it
Planning a move to a faraway destination, for your job or any other reason? Wondering if it's better to ship your things by sea, or by air? Your international moving specialist can advise you.
Moving from Belgium: by sea or by air?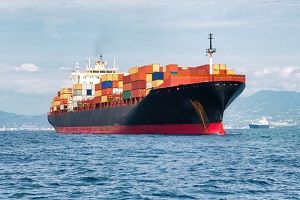 Various criteria have to be taken into account when deciding whether to send your things by boat or by air:
The volume of possessions you need to move
Large volumes, over 5 m3, are not recommended for air transport owing to the high cost.
The distance between the nearest port and the final destination
At equal volume, sea transport is cheaper than air. However, you also need to take into account the distance between the final destination and the nearest international port. A firm that's used to handling intercontinental moves has local partners it trusts. They can advise which port would be best suited to receiving your personal possessions and furniture.
How fast the move needs to be completed
Transportation by sea takes longer than by air. If you have to start your job abroad quickly, it might be better for you to move your most urgent possessions by air, and more bulky items by boat.
Additional time for a container: the container is loaded directly at the client's home by your international mover. It is then taken to the port for processing, before the closing date fixed by the shipping company, usually a few days or a week before the ship leaves port. The same process will happen at the destination port, so in addition to the port-to-port transport time, allow about two weeks extra;
Tailor-made manufacture of crates: in the case of crates, your possessions will be loaded at your home by the moving company, which then stores them. The time needed to manufacture the crates, in addition to the processing time at the port, extends the total transport time by about three weeks.
What containers can you use to ship your possessions by boat?
Let's review the different types of containers that can be used for an international move:
Wooden crates are suitable for a total volume of 10-12 m3. They are made from treated, certified wood. To satisfy international standards, crates are tailor-made by a partner company in Belgium.
Shipping containers come in several capacities: 32 m3, 64 m3 or 75 m3.
How to organise your move by sea
Your possessions can be shipped by sea to the destination port, or all the way to the destination residence. This will depend mostly on your budget, as well as on your ability to organise receipt at the destination. Expatriates returning to their home country will find this easier than new arrivals.
The shipping request corresponds to arrival at the destination port (Free on Board, or FOB).
Your international mover in Belgium performs a variety of services:
Packing your furniture: this packing consists of alternate layers of paper and corrugated cardboard. The packing paper protects your furniture from knocks and provides it with some heat insulation.
Provision of the documents needed for Customs at the Port of Antwerp, as well as those that will be required when your crates are retrieved.
Compilation of a packing list: each item must be catalogued, labelled and included in a list which will be checked upon arrival.
You can pick up your personal possessions yourself, or hire a local moving company. Please note: some countries require the owner to take care of the Customs operations upon arrival: this is the case for an international move from Belgium to Canada or to India, for example.
Door-to-door delivery of your possessions
The entire move will be handled by your mover, from the removal of your furniture and possessions and their packing, all the way through to home delivery at the destination. These operations in the destination country will be handled by a local partner, which your Belgian moving company will have contacted in advance. This all-in package includes all necessary services at each stage, such as reserving a parking space at the destination residence.
Declaring the value of your personal possessions
Any shipping by sea involves going through Customs and thus declaring the value of the possessions being shipped. This includes your documents, even if they have no monetary value. We make a distinction between the Customs value and the insurance value, which represents the replacement value.
Are you planning to move abroad by sea? Then contact Maison Genné!
Our international moving company will move your personal possessions to the destination port or all the way to the destination residence, as you wish. Ask us for further information. We can be contacted by telephone or via our online form.