Business relocations
From SMEs to mega industrial complexes: the Maison Genné will move your business!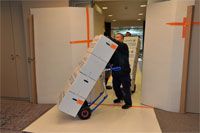 Moving factories and companies: a profession in its own right. The Maison Genné has acquired a sound reputation in "business" relocations over the years. Big names in Belgian industry but also well known SMEs call on our services for a quality move.
In view of its strategic importance and the scope of the task, this type of move is generally planned long in advance.

---
Moving factories and companies: a profession in its own right.
Moving a factory or a specialised company requires cutting-edge expertise.
Such a moving entails :
A perfect mastery of packaging techniques for valuable or particular fragile or sensitive equipment ;
Tried and tested logistics for inventories of goods (use of colour codes and classification for a massive relocation of offices, for instance);
A strict schedule that is respected to the letter, so as not to compromise the profitability of your company or factory. With Maison Genné, you know exactly when your business can start operating again in its new environment.
The organisation of sorting days, to help you get rid of documents or materials that you do not need to move (thereby generating a financial gain for your company).
Moving: rediscover your offices just as they were !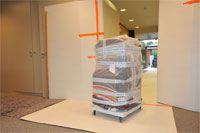 To secure a familiar environment in your new work premises, the Maison Genné can recreate your offices just as they were before you moved – so that your internal organisation is not disturbed, and you do not lose time.
They have put their trust in us
Here are some of the companies or groups that have called on the moving services of the Maison Genné :
Request a free quote