Intercontinental removals: cooperation with the best local partners
Whether to a European country or further afield, an international relocation requires considerable advance planning. Generally speaking, most people like to use the services of a professional removal company in such circumstances.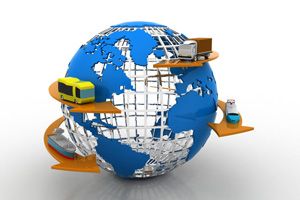 While your Belgian remover will fully handle the organisation of your intercontinental move, in many cases, it will also need to use a local partner to transport your possessions within the destination country. Certain other removals services can also be provided by local partners. Read on for full details of this partnership service involving regional removals specialists.
Local partners meticulously selected for international moves
When a Belgian removals firm uses a local partner, it's important that they're reliable and safe. After all, their staff are going to be responsible for all your effects while transporting them within the destination country. Therefore, these partner firms are subject to a rigorous selection process.
For a European move, local partners are always chosen from among members of the FEDEMAC (Federation of European Movers Associations).
When arranging your move within Europe, the Belgian removal company will choose its partners from those registered with the FEDEMAC. This federation maintains a list of removal companies that are members of a national association and which are therefore above board in terms of their general conditions of sale, their insurance cover and the staff they employ.
There is also a directory available containing general information on European removals firms and using pictograms to indicate the services offered and the availability of the removal services offered by different companies. For instance, it will indicate whether the firm is able to transport a piano, or if they have access to a temporary furniture storage service in the country concerned. This directory is updated annually.
The international removers' associations offer reliable bases when it comes to selecting international partners.
For an intercontinental move, local partners will also be selected from among members of international associations such as the FIDI (Federation of International Movers) or the IAM (International Movers' Association).
In most cases, however, the international colleagues themselves send full details of their removals services and availability directly to their Belgian counterparts.
Benefits of a partnership with foreign removers
There are many advantages in working with foreign removal companies:
When the move requires global organisation, it makes sense to use the services of high-quality local partners with specialist knowledge of their country, wherever it may be on the planet. So a relocation from, for instance, Belgium to Canada will be fully organised by the Belgian remover, with cooperation from professional Canadian partners.
Your move will be coordinated by a single contact person. Despite the involvement of a third-party partner, it's the Belgian firm that remains your sole contact throughout the moving process, which guarantees you easy communication in the event of any questions, doubts or problems.
Top-drawer partners for a hitch-free move. We select our partners from the membership lists of various removers' federations. This ensures a certain level of quality (legal compliance in terms of insurance and personnel, etc.). But beyond that, in the event of any problems or disputes with the partner firm, the Belgian remover can always turn to the relevant federation for assistance with the resolution of any problem that might arise.
Removals services which may be provided in conjunction with local partners
Depending on the destination country, a Belgian removals firm might make use of the services of a third party for various reasons. For instance, the intervention of a partner in Switzerland or Spain would differ in nature from third-party involvement in more distant countries such as Canada or China.
Moving within Europe
When a customer's possessions are being transported within Europe, the partner's involvement usually relates to the provision of removals services or the hire of small removals vehicles. For instance, the intervention of a remover from a neighbouring country could prove useful when a hoist is required for a European move or when it is necessary to reserve a parking space at the destination.
Certain European cities (Rome, Bilbao, Florence, Venice, etc.) possess a rich cultural heritage that is protected by strict rules, while in many mountainous or hard-to-access regions, removal lorries are prohibited from using certain roads. In such cases, it will be necessary to use a partner firm for the hire of small removals vehicles, which will serve as shuttles between the new place of residence and the lorry transporting your possessions. This is particularly the case when narrow winding roads have to be used during a move from Belgium to Switzerland.
Moving to another continent
When your possessions need to be moved to another country beyond the European continent, the local partner will most notably provide vital assistance with completion of the customs formalities for the long-distance transportation (by air, sea or road), support the customer during the receipt of their personal effects and then convey the packing cases by train or truck to your new address. In many cases, the port or airport where your possessions arrive will be located far from your new home.
Once the goods have been delivered to their destination, the local partners may, where applicable and depending on the customer's initial request:
Unload the goods at the new place of residence,
Check the seal affixed by Maison Genné at the start of the journey,
Conduct a full inventory and verification of the goods received,
Unpack your furniture and reassemble it,
Reinstall all your effects in identical fashion.
The wrapping paper and cardboard boxes may also be taken away by the local partner.
Would you like to learn more about our local partners? Then feel free to contact us!
Maison Genné has numerous high-quality local partners in every country in the world. You are therefore assured a successful move, irrespective of your final destination. Ask us for a free estimate for your international move. We'll be pleased to provide you with full details.