Presentation
Maison Genné started in the moving business in 1931.
Since then, the rolling stock and technologies for our services have come a long way. Conversely, our rigour and professionalism have always remained unwaveringly the same.
Spare yourself the trauma of moving: move with peace of mind.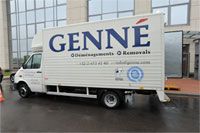 Whether you are moving to a nearby neighbourhood or the end of the world, leaving a familiar environment to live elsewhere is a traumatic experience – of varying degree, of course, depending on the circumstances and how everyone feels.
Calling on the services of professional movers enables you to make the transition in optimal conditions. Because a plethora of unexpected turns and details awaits in addition to the difficulties of moving.
With decades of experience, Maison Genné can attend to everything – while remaining within your budget! So you can move with peace of mind, and let us take care of everything!
---

---
Choosing Genné when you decide to move means that you :
Benefit from incredible flexibility : From the simple transport of your boxes to "turnkey" moving and the recreation of the rooms as they were before – everything is possible with Maison Genné.
Benefit from our professional technical arsenal : Forget the banana cardboard boxes and newspaper wrapping when you move! Maison Genné has an impressive technical arsenal. Your moving operation is computerised. Every object is transported in specific professional packaging. One example among hundreds: Our reinforced and padded cases are ideal for transporting your most precious crockery. Forget about technical frets and worries – we take care of everything!
Move on time. When it comes to moving, things cannot be improved along the way. That is why Maison Genné undertakes to meet the deadline promised when the contract was signed. So you can rest assured you will be settled in your "new home" right on time. Such punctuality is all the more important when relocating a company or a factory.
Thorough knowledge of international legislation. When you move abroad, we will see to all the necessary formalities so as to facilitate your relocation, together with your belongings, to the other end of the world, without any nasty surprises. When we deem it necessary, our local partners take over to stand at your side in your new country of residence.
A "moving budget" under control. Although Maison Genné can attend to luxury moving with identical recreation of the premises, it also provides standard services (with or without the packaging of objects or dismantling of furniture, etc.). In any case, there is no such thing as a small moving. Each moving assignment benefits from our quality criteria, whilst staying within your budget.
The details make all the difference when you move. For example, five to six weeks before the big day, we will give you a list of tasks to be carried out so that you can move with peace of mind and without any surprises.
Your moving with Maison Genné in pictures
Your moving with Maison Genné in pictures