Move abroad to Vancouver with an international moving specialist
A Belgian company would like to have a foot hold in Canada. The CEO's choice focused on Vancouver. The third largest megalopolis in Canada is also the economical capital of the British Colombia providence.
Some managers and employees must go abroad to ensure the launch of the new American antenna. One of them spoke to the Maison Genné, with which he had already previously moved from Belgium towards international countries.
Move across the Atlantic with your family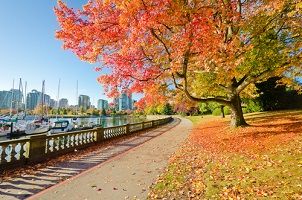 This is the third time that Genné accompanies the move of this manager and his family. We have gained their trust thanks to our experience of preparing and moving Belgian families to Canada.
Our clients already knew Québec, where they had lived when they began their life together. English-speaking Canada, however, represented a first. The children are registered at St. John's International School in Waterloo, which has prepared them for the migration.
To expatriate to Canada with Genné
The professional expatriation is planned in this case for a period of 4 years.
A maritime move is done through different types of packaging, including containers of 32 m3, 64 m3 or 75 m3. The family was going to be able to settle in a Vancouver furnished house. We toured the family home together to:
Estimate the quantity in m3 of the belongings to be taken to the destination
Define which furniture stays in Belgium. The house was to be rented out in their absence, and the family didn't want to leave their furniture for the renters. A storage unit solution in Belgium was offered and quoted
Prepare a detailed quote of the different services, including the container handling costs at the terminal (THC)
Inventory of belongings in English
Our moving team created the inventory in English of all the furniture and objects, room by room on a digital tablet.
Our clients had taken enough time in advance to plan their move to Canada, thus they had time to determine precisely:
What they took to Vancouver (clothes, photo albums and other personal belongings)
The belongings to be put in storage. This is particularly the case for cars, forbidden to import if they are less than 15 years old
Some hesitations, nevertheless, remained. Our storage unit service is flexible enough so that you can recover any stored items from us at any time. As when this couple realized they had enough space in their new residential home in Waterloo to pick up some stored items when they had moved.
Formalities for a move across the Atlantic
The Maison Genné advised and guided clients on the administrative management of their move to British Colombia:
Valid residential permit in Canada
Customs documents
Valid passport
Presence of the client required to clear personal belongings at the destination
Do you need an experienced mover to move you to Canada? Contact Maison Genné
Contact our professional moving services in Walloon Brabant for your international move. We are available to prepare for you a detailed estimate of our services, transportation of your belongings or store your furniture in a storage unit.